the way to adventure
| | |
| --- | --- |
| | |
| AUSTRIA - MAP | JAUNTAL - MAP |
GPS coordinates:
E 14,82056
N 46,64939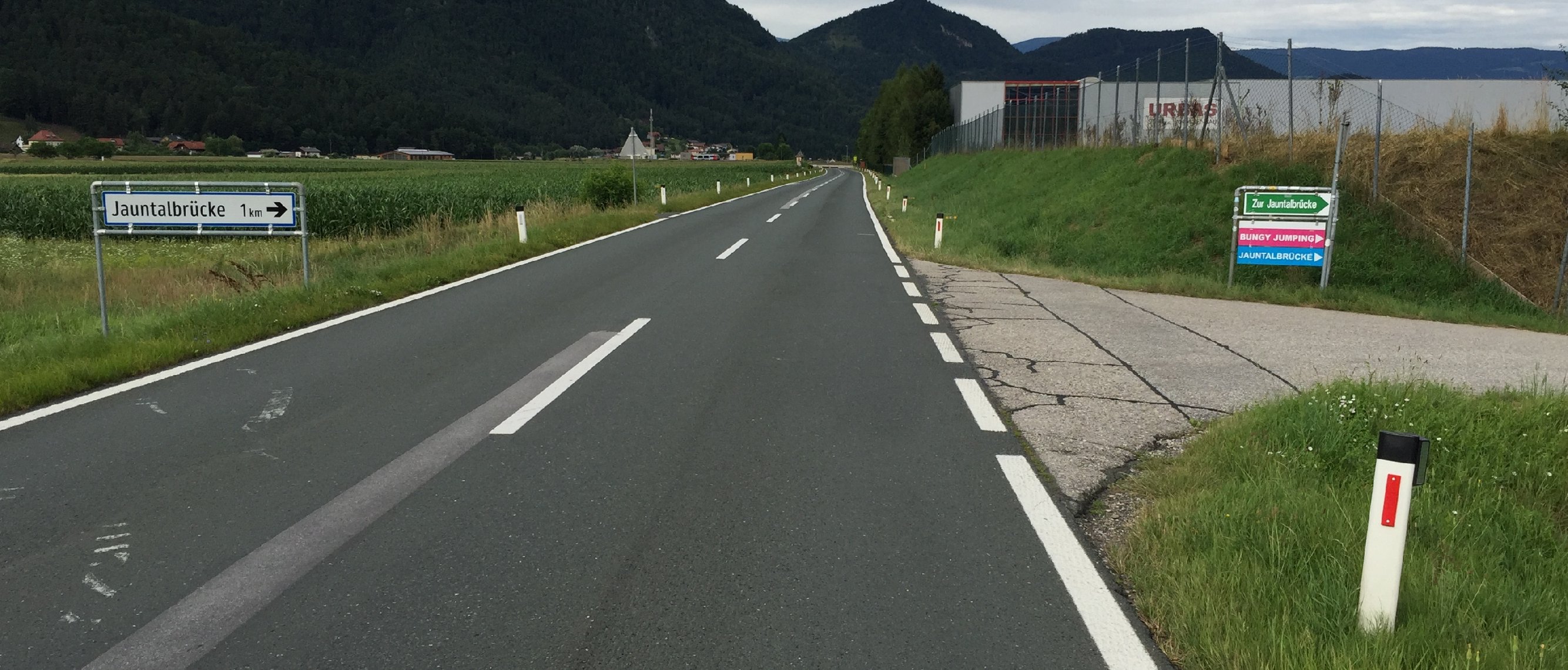 For your navigation system:
Please simply put in the address "Eis 3, 9113 Ruden" (if this is not available, just put RUDEN). One kilometer before the town Eis (or about 7km after Ruden) there is an intersection where you can turn right towards the Jautalbrücke. Please follow the signs from here!
The Jauntal is in the southeast of Austria close to the Carinthian lakes region (Klopeinersee - Turnersee) in the district of Völkermarkt. Carinthia's capitol Klagenfurt is about 50km from Ruden.
You can comfortably get to us by car from all directions via the Süd-highway (A2) and highway exit Griffen (the highway sign even has "Jauntal" on it, EXIT 273, Griffenrast/ Griffen highway service stop - Restaurant "Mochoritsch").
From there go towards Ruden for about 6km. In Ruden please take the bypass towards Lavamünd and just stay on the main road for 7km. After that, simply follow the green signs that say Bungy Jumping "Jauntalbrücke" and turn right towards the Jauntalbrücke.
It is only about 12km from the highway to the Jauntalbrücke.
CARS ARE ALLOWED ALL THE WAY TO THE BRIDGE !!
Since there is also a trainstation nearby the bridge (trainstop Eis - Ruden) you can also arrive via train. Starting station is Klagenfurt and it will take you about 50 min to get to Eis-Ruden - including a ride across the Jauntalbridge itself.

And if you want to travel comfortably by TAXI, simply call 0676 84499933 day or night.
 
Table of distances from European cities: 
 
 
 
within Austria
 
Distance
Driving time
 
Vienna
280km
~2,5 Std
 
St.Pölten
340km
~3 Std.
 
Salzburg
270km
~2 Std. 30min.
 
Eisenstadt
264km
~2 Std. 30min.
 
Graz
100km
~1 Std.
 
Klagenfurt
40km
~40 min.
 
Innsbruck
361km
~5 Std. 30min.
 
Bregenz
540km
~8 Std.
 
Germany
 
 
Munich
394km
~3 Std. 50min.
 
Stuttgart
620km
~5 Std. 40min.
 
Frankfurt
785km
~7 Std.
 
Cologne
960km
~8 Std. 40min.
 
Dortmund
1000km
~8 Std. 50min.
 
Hannover
1025km
~9 Std. 10min.
 
Hamburg
1170km
~10 Std. 20min.
 
Berlin
980km
~8 Std. 50min.
 
Dresden
850km
~7 Std. 40min.
 
Leipzig
810km
~7 Std. 20min.
 
Switzerland
 
 
Zurich
710km
~6 Std. 50min.
 
Bern
830km
~8 Std.
 
Lucerne
815km
~7 Std. 20min.
 
Lausanne
895km
~8 Std. 50min.
 
Italy
 
 
Trieste
275km
~2 Std. 50min.
 
Venetia
330km
~3 Std. 10min.
 
Milan
585km
~5 Std. 20min.
 
Genoa
712km
~6 Std. 20min.
 
Rome
840km
~7 Std. 40min.
 
Naples
1040km
~9 Std. 20min.
 
Slovenia
 
 
Maribor
88km
~1 Std. 20min.
 
Ljubljana
120km
~1 Std. 50min.
 
Croatia
 
 
Zagreb
180km
~2 Std. 40min.
 
Split
550km
~8 Std. 30min.
 
Pula
305km
~4 Std. 10min.
 
Hungary
 
 
Budapest
410km.
~5 Std. 30min
 
Szeged
525km
~7 Std. 40min.
 
Slovakia
 
 
Bratislava
345km
~3 Std. 30min.
 
Kosice
775km
~8 Std. 30min.
 
Czech Republic
 
 
Prag
580km
~6 Std. 10min.
 
Brno
420km
~4 Std. 30mi