the energy for your adventure
Restaurants Klaus and Steyrling

Gasthaus Schinagl Inn
Our rooms:
The "Dorfstube": Feel cozy by the warmth of our tiled stove with your group. 
The "Rosenstube" is reserved for all our non-smokers and is perfect for corporate events and family events up to 30 people.
Der Veranstaltungssaal offers plenty of room for various celebrations such as weddings, christmas parties etc. for up to 100 people.
Open: Wednesday through Sunday;
Wednesday it's ribs night after 17h;
Saturday deep fried chicken;
Days of rest: Monday and Tuesday.
Contact:
Inh. HASANI Fehmi
4564 Klaus 62
Tel: +43 (7585) 20034
Email:
hotel-schinagl@aon.at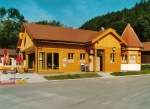 Herndlreitstüberl
Your home-style Inn by the A9 highway exit Klaus/Pb.
4564 Klaus 136
Contact:
Tel: +43 (7585) 200 64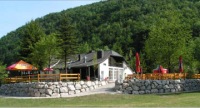 Gasthaus Seeblick Inn with boat rental
Local recreation area by the late with a spacious playground and opportunities to spend your free time close to nature.
The Inn and its large outside terrace invite you to stay a while and enjoy nature and home-style cooking.
Let us treat your palate to some freshly made salads and seasonal offers. 
We can help you book wonderful times for family celebrations, club celebrations or other meetings and parties with good friends!
Contact:
Owner Helmut Pölz
Address: 4591 Molln, Pertlgraben 1
Mobile: +43 (676) 56 90 269
Home: +43 (7585) 310
Email:
poelz@stauseeklaus.com
Homepage:
www.stauseeklaus.at

Gasthof Kaiserin Elisabeth Inn
Traditional guesthouse in the town center where empress Elisabeth "Sissy" already spent her nights.
Discounts for children, children's menus, offers for senior citizens.
Accomodations and amenities:
12 doubles, 1 triple, all are comfort rooms including shower or bathroom/WC, color-TVs and phones, sometimes including faxing.
Rustic dining rooms, automated bowling alley, terrace, playground, outside dining area, in-house pastry shop and bakery.
Opening hours:
Tuesday, Wednesday, Thursday from 10:30h, Friday from 15h; 
Saturday and Sunday from 10h;
Every Tuesday from 16h ribs night;
Every Thursday from 17h pizza and pasta night;
Room prices:
from € 33,-
Contact:
Gasthof Kaiserin Elisabeth Inn
Siegfried Schwarz
4571 Steyrling 104
Tel: +43 (7585) 8217
Telefax: +43 (7585) 8217-20
EMail:
info@kaiserin-elisabeth.at
Homepage:
http://www.kaiserin-elisabeth.at

Gasthof Klausner Inn
Gasthof Klausner Inn distinguishes itself through its quiet location inside the town of Steyrling. It is also an agricultural and silvicultural business with a trout pond as well as game from their own hunting grounds. Get comfortable on the sunny terrace or get sporty on the asphalt curling alley. The dining room at Gasthof Klausner Inn has room for 100 people.
Contact:
Family Josef Pölz
4571 Steyrling Nr. 58
Tel: +43 (7585) 8204